Quotes
A soul who wishes that his sins can be forgiven by the tears of salvation. -Nadil reflecting on his soul.
Images
Featured Article
Main Article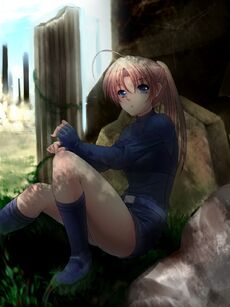 Alison was born on Planet Reach. From an early age she was very promising, more advanced then the other students, she was watched carefully by Dr. Halsey. After gathering some information on Alison, Dr. Halsey thought she should meet her herself. Having been noted as an excellent potential subject, Halsey personally met with her at her school. This was a process that had been repeated with many other children, and she was one of the last to be inspected. During her inquiry, she found her to be of stunning intellect, and to have a very analytical mind. Dr. Halsey before she makes her final decision on Alison, she has given her a scenario, and wanted to see how Alison's mind works. Alison stunned Dr.Halsey when she gave her three ways to complete the task.
About Us
We are a fanon wiki dedicated to anime, games, and manga. We allow users to create their own fan fiction stories, characters, techniques, powers, etc., as well as allowing them to collaborate together in what is known as a roleplay; where fan fiction writers can write stories together, pit characters against each other in fights, and even do comedy skits. Users are also encouraged to get to know each other, make friends, and communicate with each other via the Message Walls provided by Wikia to promote a friendly writing environment, as well as allowing them to collect feedback for their works. Our goal is simple, we want everyone to come and enjoy what we love. We want to have fun!
Playlist
Getting Started
Finding a way to get started can be challenging. Though it can also be easy if you just ask! For one, you could ask around for the active users, who are often more than happy to help you with your stories and characters. All you need to do is just ask and well see on what we can do. Just to get out of the way, yes you can post your characters, stories or whatever you like on here. Just make sure it isn't over the top.